Foundation Stage 2
Please click below to view unit newsletter and Learning Challenge plan
Phonics presentation November 2016
A warm welcome to Foundation Stage 2 at Queens Crescent School. This year your child will embark on one of the most important journeys of their life throughout their time in FS2. Our philosophy at Queens Crescent is to nurture, develop and celebrate each child as an individual. It is crucial that your child feels happy, safe and develops a positive attitude to learning within their first year at school so they can continue to flourish, embrace the joy of discovery, and acquire the desire to want to find out more in the future. To promote this we create a safe, friendly, and inspiring learning space where children's interests and passions are encouraged and supported. Children flourish at Queens Crescent School and by working closely with you at home we can ensure that their first year at our school is exciting, rewarding and positive.
| | |
| --- | --- |
| | |
| | |
Children make an excellent start to their education in the Early Years Foundation Stage. They are very well taught and cared for and make good academic and personal progress.
The Early Years Foundation Stage is particularly successful in developing children's personal skills so they learn to take turns, to be considerate of others and to collaborate when working and playing. This lays firm foundations for children's continuing education and their excellent behaviour throughout the school.
Quotes from our OFSTED inspection March 2014
We appreciate that for many of you this may be your first experience of school as a parent and we would like to provide you with an introduction to the Foundation Stage and our aims within it. We greatly value the children's previous experiences and believe that learning through play and first hand experiences are vital when developing their thirst for knowledge. We are very fortunate to have excellent facilities to enable this to happen, these include fantastic bright spacious classrooms, a large and exciting outdoor learning environment, a mud kitchen and numerous child friendly spaces to explore.
| | |
| --- | --- |
| | |
| | |
Aims and Objectives for the Foundation Stage
We aim to:
Provide a caring and secure environment, where each child is valued as an individual.
Provide equal opportunities for all children, incorporating different cultures, religions and special needs
Develop every child's confidence and self-esteem to help them become caring and social individuals.
Provide a flexible and stimulating curriculum across the seven areas of learning.
Plan challenging learning experiences that have been informed by observation and assessment.
Provide a range of opportunities that are both adult and child initiated within the classroom and outdoor classroom environment.
Provide secure and safe learning environments indoors and out.
Work in partnership with parents and within the wider context.
Foundation Stage Curriculum
We adhere to the Statutory Framework of the EYFS (2012) and the four guiding principles that shape and guide practice within our Early Years setting. These are:
A Unique Child
Positive Relationships
Enabling Environments
Learning and Development
Our Early Years Foundation Stage curriculum is based on 'Development matters' and an outline can be seen below: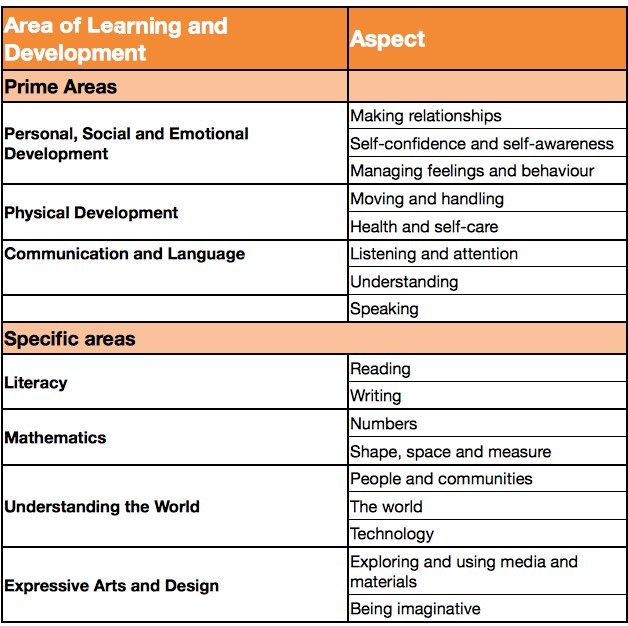 The Prime areas develop in response to relationships and experiences. They support learning in all other areas and are fundamental throughout the EYFS.
The. Specific areas include essential skills and knowledge which grow out of the Prime areas and provide important contexts for learning.
Planning
In the foundation stage we carefully plan broad topics which are guided by the children's own interests and create meaningful opportunities for cross curricular learning. Our planning is always based upon the children's interests, ideas, suggestions and style of learning. When planning we also take into account the children's learning styles and preference. We encourage children to be adventurous and challenge themselves, we monitor this through the Characteristics of Effective Learning.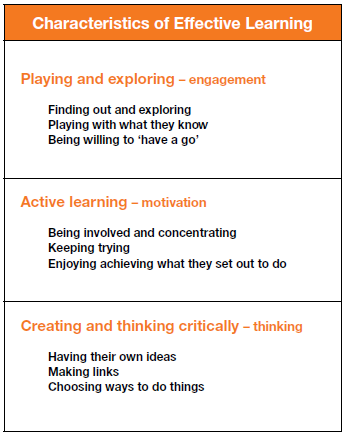 The children learn through a balance of both child-initiated opportunities and adult led activities to support their learning of basic skills. Play is a large element within the curriculum, the children are able to act upon their personal interests and ideas and have their learning consolidated, embedded, extended and challenged by adults within the setting.
Personal, Social and Emotional Development:
Communication and Language:
Literacy:
| | |
| --- | --- |
| | |
| | |
| | |
| | |
Understanding of the world:
| | |
| --- | --- |
| | |
| | |
Expressive Arts and design:
| | |
| --- | --- |
| | |
| | |
The teachers in Foundation Stage are, Mrs Hynes and Mrs Webb (Cheltenham Class) and Mrs Garton (Sandown Class).
We also have four brilliant teaching assistants who support both classes and 1:1's
Mrs Wise, Mrs Knight and Mrs Paterson
Mrs Pickering 1:1 Speech and Language Intervention
We all look forward to embarking on this exciting learning journey with your child !
Our topics this year in the foundation stage are:
Term 1 "Each Peach Pear Plum!"
Term 2 "Toy Story!"
Term 3 "Take One Bug".
Term 4 "It's Spring and look what's Blooming!"
Term 5 "I want to be....".
Term 6 "We like to move it, move it!".