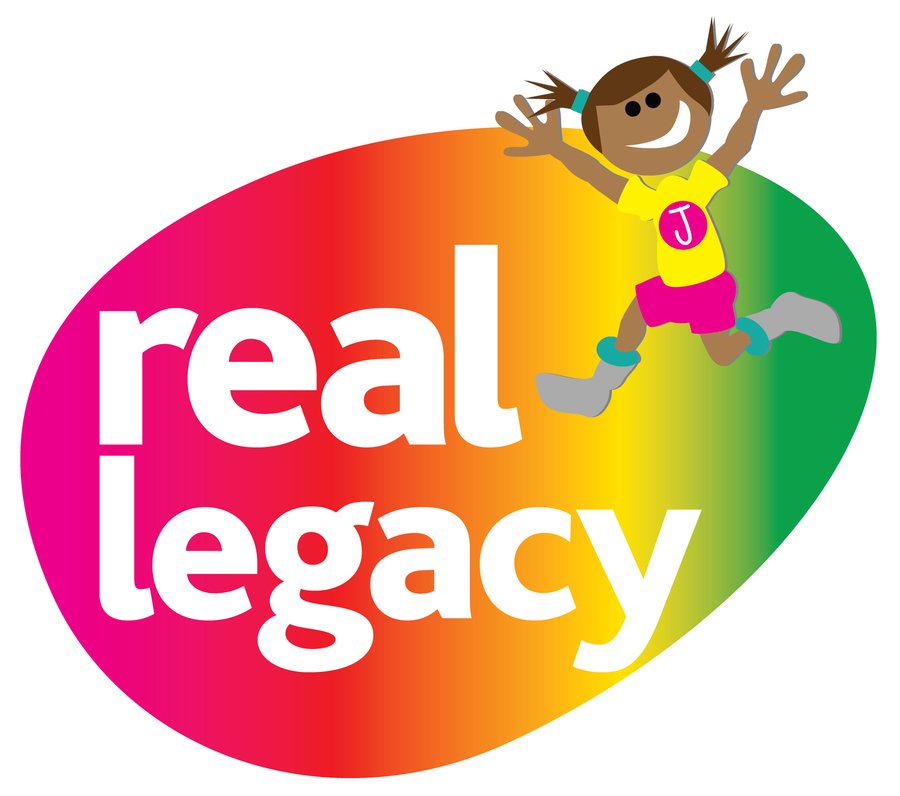 Please click to view PE policy
PE at Queen's Crescent 2021/22
At Queen's Crescent we offer a range of exciting PE and sporting opportunities to keep our children active and healthy as well as active play and lunch times. We promote a safe and positive environment for our children to gain the confidence to try new things and create positive attitudes to PE and sport. ​
We are proud to be a real legacy school and strive to create a new ambition for EVERY child.
We are on a mission to get our children more active by developing the fundamental movement skills that are so often overlooked. Our PE lessons will be centred around the child to enable them to be successful both in the classroom and in later life.
real legacy allows us to bring the school, home and the community together to enable cultural change. Our journey began with real PE teacher training to support our PE provision to develop the whole child and will extend across the school to include support for families and the wider school community. In addition to teacher training, Create Development provide:
school-based support,

real PE

activities and games for families to play at home to support home learning

,

enrichment and competitive opportunities,

supporting resources.
This programme, through its holistic approach, will also develop children's personal, social and emotional skills.
The children need their PE kit in school each day Please click here to view PE kit. ​The children will need to wear their PE kits to school all day.
We offer a huge range of sporting opportunities for our children through our Real PE and Real Gym schemes of work, our teacher led clubs and sports festivals offered through the Chippenham Sports Partnership and links with local clubs. ​As well as this, we have groups of children chosen or trained in different skills to support the running of PE, sport and physical activity throughout the school. These include the Bike-It Crew, the playground Buddies and the School Sports Organising Committee. The children are enriched through these responsibilities to support and guide others to lead a healthy lifestyle.
​Our sports providers, Up & Under will continue to offer some clubs to a small number of children. These are multi-skills, football and netball as after school clubs and balance bike training in FS2 and year 1.
​Up & Under also provide staff development by working alongside staff and children in their PE lessons. Throughout the year Dave Peters and Ollie Hemmings will work with nearly all of the cohorts of children and targets the staff who want his support.
Swimming
Due to the restrictions imposed by covid over the last 2 academic years, in 2021/22 we will be sending years 4 and 5 for swimming lessons at the Olympiad Leisure Centre as these are the children who have missed out. If there is time left at the end of the year, we would also like to send Year 3 but this is very dependent on availability at the pool who are being asked to provide many catch-up sessions for all schools in Chippenham.
After SATs each year, we look at past swimming data and offer 'top-up' sessions for those children in Year 6 who cannot swim 25m unaided, something which we hope to offer once again.
We do not have any Year 6 swimming data for the academic year 2019/20 due to lockdown. In the academic year 2020/21, we collaborated with parents of Year 6 children to find out what percentage of our children had met curriculum targets: 72% of the children can swim 25m confidently with 76% of them being able to use a range of strokes effectively. Unfortunately, our local pools were still closed in the summer term so we were not able to offer top-up sessions to the other children.
Sports Premium Funding
In 2013 the government pledged millions of pounds to schools known as the Sports Premium to spend on raising the profile of PE and to continue the legacy of the 2012 London Olympic Games. Since then, Queen's Crescent has been given around £9500 each year but from September 2017 that amount was doubled resulting in around £19,000 to focus on school PE and sports.
2021/22
2019/20
PE Newsletter Term 1
PE Newsletter Term 2
PE Newsletter Term 1
Chippenham Sports Partnership News January 2019
PE Newsletter Term 3
PE Newsletter Term 5
PE Newsletter Term 6
Chippenham Sports Partnership News April 2018
Chippenham Sports Partnership News January 2018